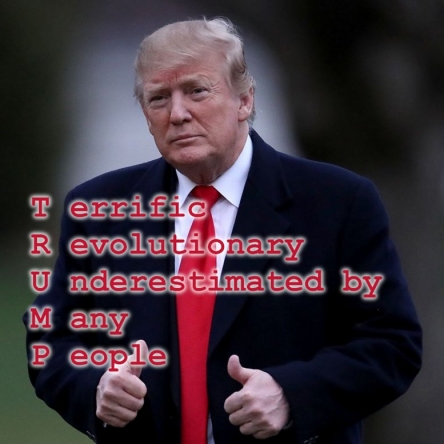 Terrific Revolutionary Underestimated by Many People
I have to openly admit, I thought Trump was one of the most caricaturistic presidents ever to inhabit the White House when he was elected. But then the media started doing everything they could to damage the guy's reputation, as did many of the powerful people in Washington D.C. Then in 2017 QAnon launched on 4Chan, and soon a very interesting pattern started to emerge...
Yes, it soon started to look like the patriots at QAnon were cooperating with the president, the only president by the way who financed his own campaign, and thus was not limited by the donations of the powerful lobbies to lean in on him once he made it to office. They tried to get him for having cooperated with the Russians to get elected, and failed. The media (controlled by six megacorporations) did everything they could to put him in a negative light, but Trump used the brilliant tactics of not attacking, but consistently responding with intelligent countermoves that used his opponents force against them!
Meanwhile QAnon has grown, and during the COVID-19 shutdown the messages started showing a great pattern of hope: having been a last ditch effort against the evil that gave us Kennedy's assasination and 9/11, it came to light that Trump and the Alliance seized the opportunity to set in motion the final stage of a twenty year plan...
Back Home...